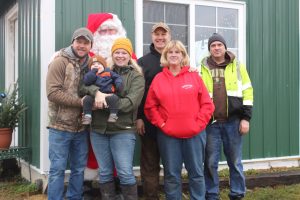 We have closed for the 2020 season as of today, December 6th, 2020. We are looking forward to 2021. Thanks to our customers for a successful 11th season! Stay healthy and thanks again!!
Welcome to Mistletoe Tree Farm's page. For 2020, we will open Friday, November 27th.
We will be using best practices regarding the current pandemic.  Our farm will still be open as normal with a few  changes and precautions to protect our customers and employees. First and foremost, we ask that you follow distancing guidelines and wear a face mask/cover when necessary.  Our warming house will not be open to customers due to the confined space.  For checking out, we will have pay at the window of the warming house.  We will not be providing apple cider and treats this year.  Also, our Santa will be taking the year off.  Sorry but again safety is paramount.  Our saws will be sanitized for you to use.  We will have hand sanitizer on site. 
We offer appointments Monday-Thursday (Closed Thanksgiving)if you want to visit the farm without a crowd. Book on our Facebook page or call the farm 608-235-3273. We also have built the sales tax into our price. Please check out our Facebook page for the most current information.
Since 2004, we have been planting and growing Christmas trees between Edgerton and Stoughton on County Road N, a stones throw from the Yahara River.  Our goal was and continues to be to provide Christmas Trees for families at a reasonable price.  We offer "cut your own" and pre-cut trees.  Our stock consists of Fraser Fir, Blue Spruce, Canaan Fir, Balsam Fir and Blue Cook's Balsam Firs.  We provide saws for cutting your own.  We include shaking and netting in the tree's price.
At Mistletoe, we also make our own fresh wreaths including our ultra special Horsehead wreath, kissing balls, tabletop baskets, centerpieces, porch pots and garland/roping.  Pre ordering is required for tabletops, centerpieces and horsehead wreaths.
We are open Fridays, Saturdays and Sundays from 10am-5pm.  We accept debit /credit cards, cash and local checks.  We will remain open until we determine we have sold most of our field stock.  We welcome leashed well behaved dogs.
Find us on Facebook at:
https://www.facebook.com/mistletoechristmastreefarm/