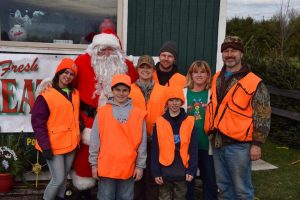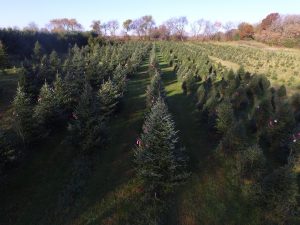 Sunday, December 2nd, 2018: We are so thankful to our customers for our busiest season once again. Today will be our last day open for 2018. Our field stock is sold out. Today we will continue to sell our remaining quality Fraser Fir pre-cuts along with wreaths, door sprays, tabletops, GH-Mistletoe Honey, Birch candles and more! We will be offering special discounts throughout the day. Santa will be here at 11am.
————————————————————————-
For 2018, we will open November 23th.
Welcome to Mistletoe Tree Farm's page.  Since 2004, we have been planting and growing Christmas trees between Edgerton and Stoughton on County Road N, a stones throw from the Yahara River.  Our goal was and continues to be to provide Christmas Trees for families at a reasonable price.  We offer "cut your own" and pre-cut trees.  Our stock consists of Fraser Fir and Balsam Fir.  We provide saws for cutting your own.  We include shaking and netting in the tree's price.
At Mistletoe, we also make our own wreaths including our ultra special Horsehead wreath, tabletop baskets, centerpieces, porch pots and garland/roping.  We stock most of these and also accept custom orders.
We are open Fridays, Saturdays and Sundays from 10am-5pm.  We accept debit /credit cards.  We will remain open until we determine we have sold most of our field stock.  We welcome leashed well behaved dogs.
Enjoy a visit with Santa and have some hot apple cider and a cookie in our warming house.
Find us on Facebook at:
https://www.facebook.com/mistletoechristmastreefarm/